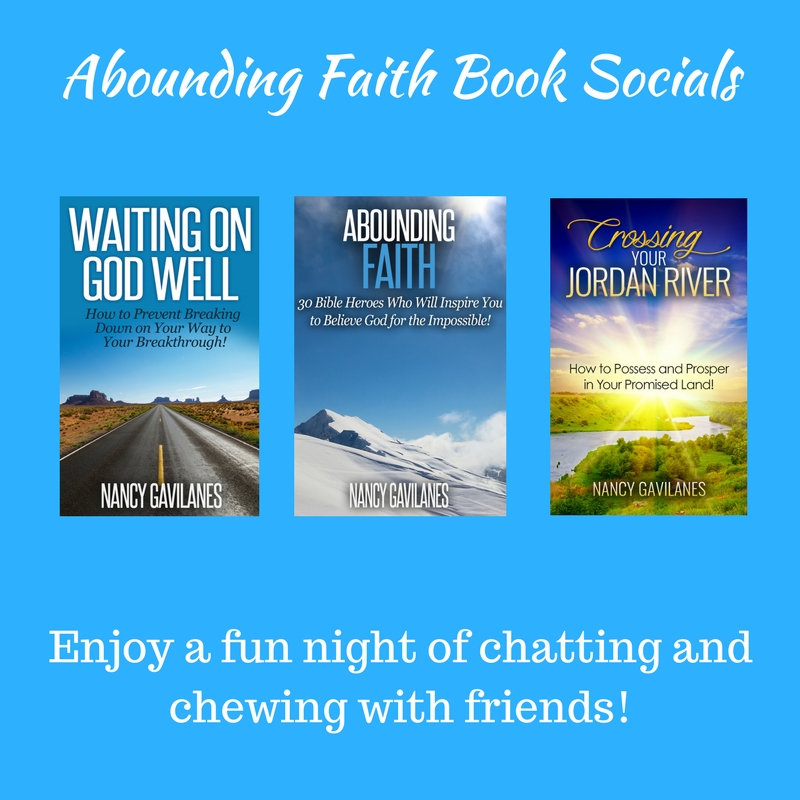 Books are better when you can share your thoughts with your friends over yummy treats!
If you're looking to host a fun gathering filled with faith, fellowship, and good food, why not host an Abounding Faith Book Social with your friends, family, small group, book club, or community members? It's super simple!
I've outlined 5 easy steps to help make your Abounding Faith Book Social a fun and inspiring gathering right here.
You can give your guests the option to pick their Abounding Faith book depending on where they are in their faith journey, or you could choose one book to focus on at your first gathering and save the other two for your future socials.
Waiting on God Well is perfect for those who are struggling as they wait for God to fulfill His promises to them.
Abounding Faith is perfect for those who are facing what seems like impossible situations in their life.
Crossing Your Jordan River is perfect for those who would like to learn how to possess and prosper in their Promised Land.
Your guests can buy the books in print or Kindle on Amazon.
If you'd like more help in planning your Abounding Faith Book Social, the new Abounding Faith Book Socials Leader's Guide has:
A handy Planning List
Discussion questions for each book
Extra theme ideas
Sample language for your invite and social media posts
And you get access to a special, short video greeting you could play at your gathering
For a limited time, the Abounding Faith Book Socials Leader's Guide ebook is available for only $5.99.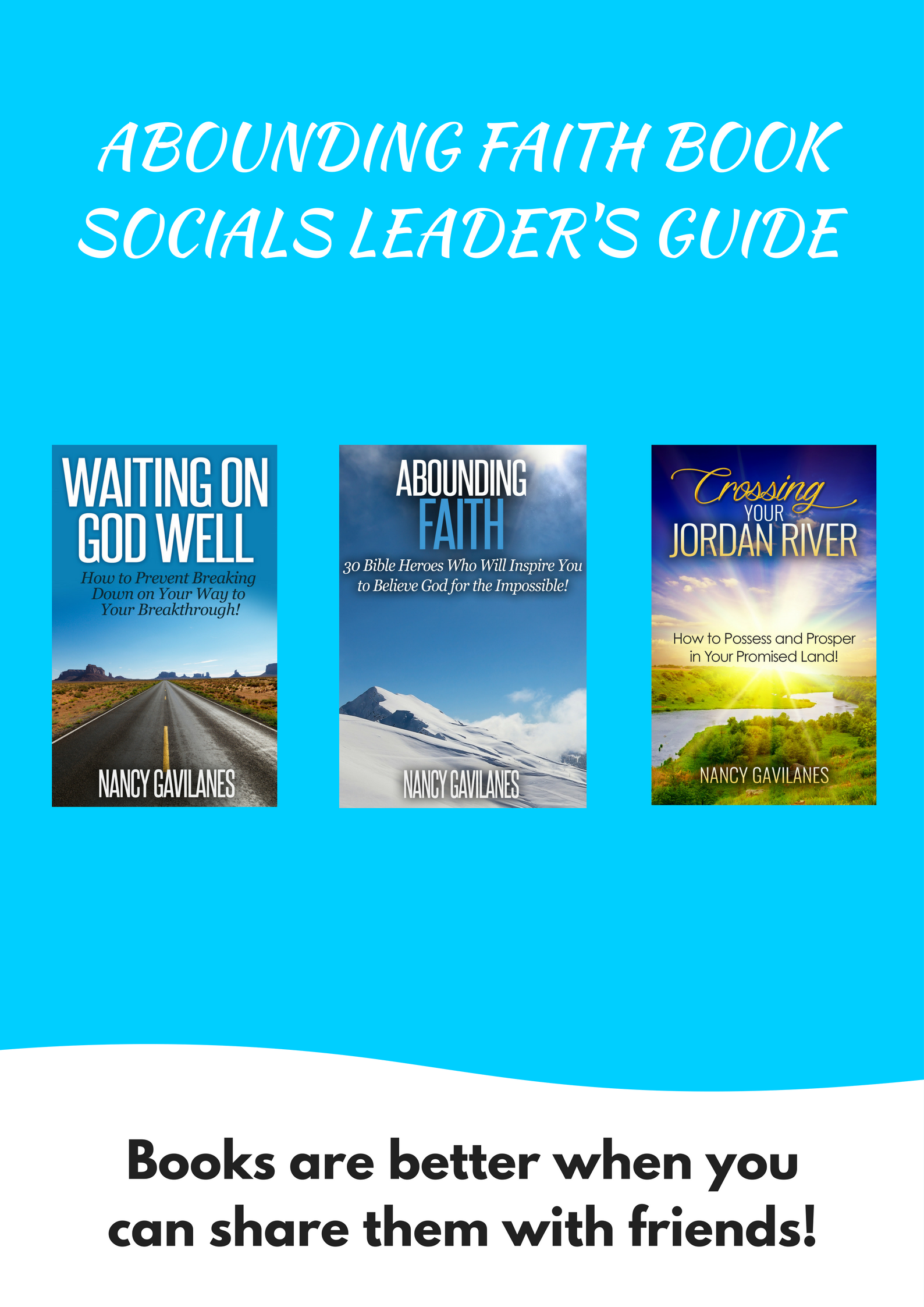 Please note all sales are final.
***Special bonus offer for large groups. If you have 20 or more confirmed guests coming to your Abounding Faith Book Social and would like to have me join you for a few minutes via FaceTime, Google Hangouts, or Skype, please email your request and event details to info@AboundingFaith.com. If you plan to have a group of 100 or more and you're interested in inviting me to come speak live at your Abounding Faith Book Social, please email your details (including your speaker's budget) to info@AboundingFaith.com and I'll prayerfully consider it!
No matter what the size of your group, I pray you and your guests will be inspired by Waiting on God Well, Abounding Faith, and Crossing Your Jordan River!
Thanks for your prayers and encouragement! Blessings!
P.S. Local ladies don't miss out on Abounding Faith's SOAR Women's Conference on May 20th. Register today by clicking here.
Did this post encourage you? Get my weekly blog posts emailed to you for free by clicking here or the image below. When you sign up, you'll also get access to the new "7 Journal Writing Prompts to Help You Wait on God Well" PDF as a free gift.

For more encouragement, read my books Waiting on God Well: How to Prevent Breaking Down on Your Way to Your Breakthrough and Abounding Faith: 30 Bible Heroes Who Will Inspire You to Believe God for the Impossible! To learn how I can come alongside of you as your Life Coach or to invite me to speak at your event, visit my website www.aboundingfaith.com. Check out Abounding Faith's online store here. You can also find me on Facebook, Twitter, YouTube, Instagram, and Pinterest.
You might also enjoy reading: