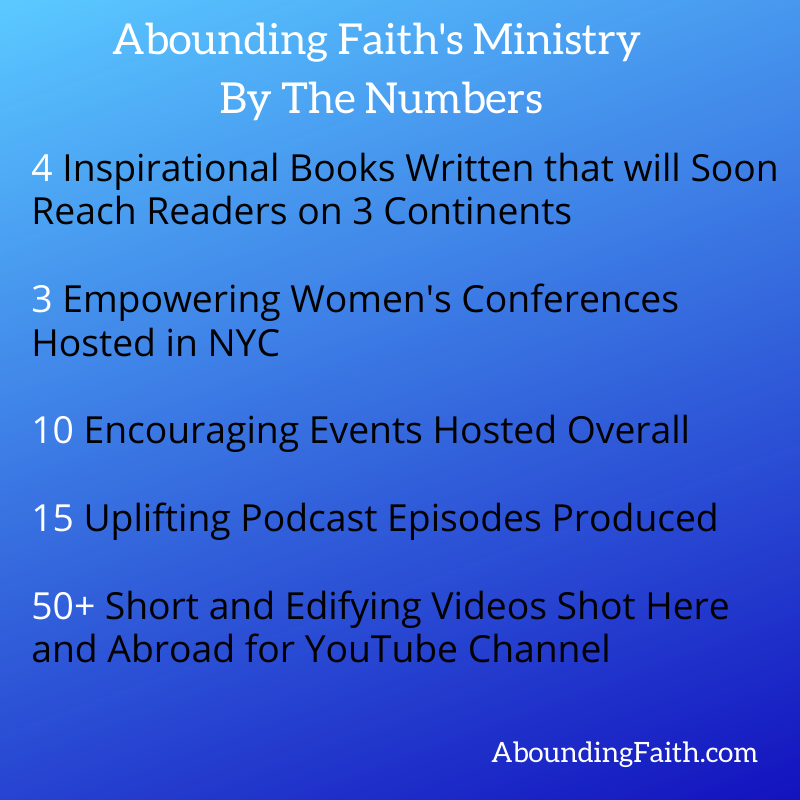 I'm in awe of all that God has done through Abounding Faith these last couple of years and there's more to come. God is Good!
Abounding Faith is here to encourage and inspire you as you grow in your faith and to empower and equip you as you discover your calling and live your God-given dreams.
I pray that your faith is fueled, your hope ignited and your heart set ablaze with the love of God through Abounding Faith's uplifting books, events, podcast episodes, YouTube videos, online store items and more!
If you're being blessed by Abounding Faith's ministry and you'd like to get involved and show your support for Abounding Faith's edifying content and projects, let's SHINE together!  Here are 2 wonderful ways to do so:
1. I invite you to join Abounding Faith's Dream Team. As Audacious Dreamers and Doers, together we can continue inspiring men and women, young and older and those of diverse backgrounds to grow in their faith and love for God. Dream Team members can be acknowledged on Abounding Faith's social media or remain anonymous. You can learn more about how to join as an individual or through your organization/company on Abounding Faith's Patreon page by clicking here.
2. Another wonderful way that we can SHINE together is to invite me to speak at your next event. You can learn more in the super short video above and by clicking here. I'd be delighted to share a Bible-based message at your church, school, conference, retreat or outreach event. Your group will be inspired and filled with hope.
God is moving in and through Abounding Faith! All Glory to God! I appreciate your prayers and encouragement as I continue to live out the call that God has placed on my life in this season.
Blessings as you walk by abounding faith, hope and love and live your God-given dreams!
You might also enjoy reading: