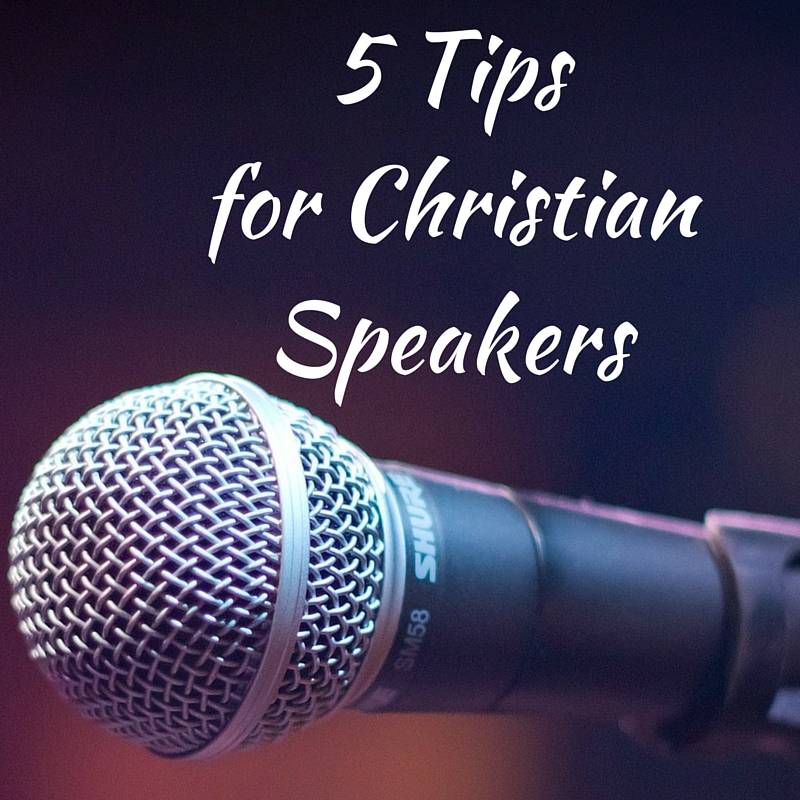 The Lord is opening up more doors for me to speak lately, praise God! It's always a blessing to get to talk about God and to encourage others in a group setting or while out on evangelism outreaches!
It's so rewarding to have people say that they were blessed by the words I shared. Some have been moved to tears and have said they were touched because what I said was exactly what they needed to hear.
A sister-in-Christ recently gave me one of the best compliments I could ever hope for. After hearing me speak she said, "That was not you speaking. That was God." Glory to God!
Our goal as speakers should not be to draw attention to ourselves, but to Jesus. He is the One who died on the Cross for our sins and gave us the gift of eternal life with our Heavenly Father.
We are His ambassadors and witnesses. Our message should point people back to God and His love for us!
If you're being called to speak in your small group or even to larger groups, I'd like to share a few lessons I've learned along the way.
It doesn't matter whether you're speaking to 10 people or want to speak to 10,000, your preparation should still include:
Remaining Prayerful  Pray as you prepare your message. Pray for those who will be listening. Ask God to give you the right words to share and to help you share them with the right heart and attitude. As you practice what you're going to say, ask the Lord to show you which Bible stories, points, and personal testimonies should stay and which should be cut. Jesus should be the center and hero of your message. Don't forget to pray right before you give your message. If you have prayer partners, ask them to pray for you as well!
Knowing Your Audience  Learn as much as you can about who you will be speaking to. Is the group composed of mature believers, new believers, seekers, or mixed? What is their average age? Will males and females be in the audience? Ask your host what topics the group has been studying lately or what issues the group members have been struggling with. This information will help you as you decide which stories or verses to share and will help you share a timely word with them.
Being Sensitive to the Holy Spirit  Even after you've prepared, let the Holy Spirit take the lead. You'll find yourself sharing parts of your testimony or Bible verses you didn't plan on talking about. That's fine. Have a plan for your message, but remain flexible. And remain calm if you find people shedding a few tears. Let the Holy Spirit do His work.
Being Prepared in Season and Out of Season  You never know when you'll be handed the microphone in a prayer meeting or asked to share a testimony at a gathering, so it's important to continue spending time with the Lord on a daily basis. It's out of that ongoing relationship with Jesus that you will find fresh words to say. The Holy Spirit will bring things to your remembrance at the right time!
Arriving Early  It's always good to arrive at the meeting place a bit early so you're not in a rush and flustered. You'll have time to compose yourself, get familiar with the space, and ask your host any last minute questions. You might want to pray before the place starts filling up or greet a few of the guests as they arrive. As the time gets closer for you to speak, remember to get quiet before the Lord so you can hear any last minute instructions.
Having Fun!  Here's a bonus tip, remember that in the presence of the Lord there is fullness of joy (Psalm 16:11) and that the joy of the Lord is our strength (Nehemiah 8:10). Give your nervousness to the Lord. It's a privilege and honor to speak about the King of kings! Smile, laugh, and interact with your audience. If you start to cry while sharing your testimony, that's ok. You're human. Shed a few tears, but keep going! Be yourself and share the message that God has placed in your heart with love and compassion for your listeners. Amen!
I'll be sure to share more tips with you soon! If you'd like to learn more about having me come speak at your next event or gathering, please click here.
What speaking tips would you like to share? Share your thoughts in the comments below! And don't forget to sign up below to have my weekly encouraging blog posts emailed straight to you for free. When you subscribe below, you'll also receive the free "12 Journal Writing Prompts" PDF I created to help inspire you as you write/journal.

For more encouragement, read my books Waiting on God Well: How to Prevent Breaking Down on Your Way to Your Breakthrough and Abounding Faith: 30 Bible Heroes Who Will Inspire You to Believe God for the Impossible! To learn how I can come alongside of you as your Life Coach or to invite me to speak at your event, visit my website www.aboundingfaith.com. Check out Abounding Faith's online store here. You can also find me on Facebook, Twitter, YouTube, Instagram, and Pinterest.
THE HOLY BIBLE, NEW INTERNATIONAL VERSION®, NIV® Copyright © 1973, 1978, 1984, 2011 by Biblica, Inc.™ Used by permission. All rights reserved worldwide.
You might also enjoy reading: