I'm so grateful to God that Abounding Faith's very 1st Book Social was such a blessing! We had such a sweet time of fellowship. The guests told me their favorite part of the event was the discussion time when they got to hear others share about their experiences related to the topic of Waiting on God Well.
I'm delighted that the event was a safe place where people could share their thoughts and encourage one another! That was my hope for this event. It was sweet to interact with my readers during the group discussion and to share a short encouraging word with them.
I appreciate all the help from my wonderful volunteers pictured below. My Mom was also a tremendous help, as usual! Many thanks to my friends at Open Bible Church International for once again opening up their doors to us.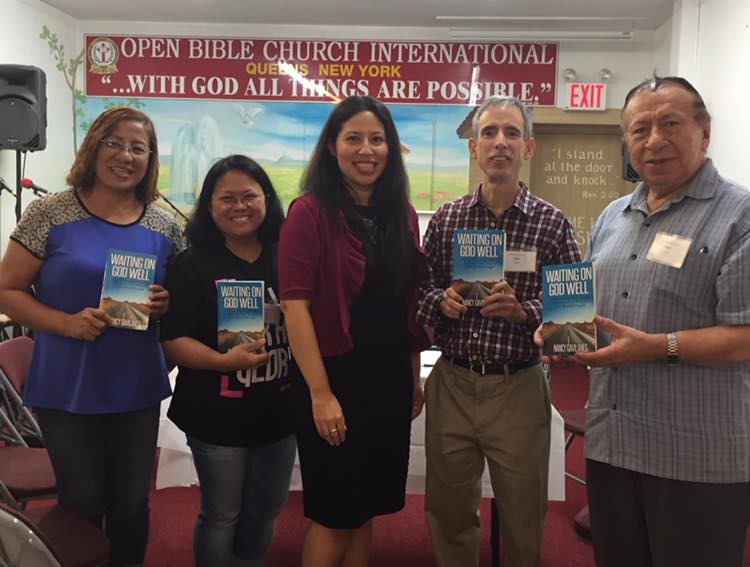 We not only had a great group discussion and prayer time, but there were also special giveaways for guests. I'm grateful to my friends and Our Daily Bread for providing the Hope devotionals and my friends at TBN NY for providing the books pictured below.

Abounding Faith's Book Social also included yummy treats and a chance to buy signed copies of Waiting on God Well, Abounding Faith and Crossing Your Jordan River.

This was the third and most likely the final event I'm hosting this year, but fret not! I'm already praying and planning for next year. I'm looking forward to having more Book Socials, so please stay tuned!
Did you know that you can host your own Abounding Faith Book Social with your friends, church, small group, women's ministry or book club? You can get all the info by clicking here.
Whether you read Waiting on God Well, Abounding Faith and Crossing Your Jordan River (available on Amazon) on your own or with a group, I pray you're blessed and encouraged to trust God and to live your God-given dreams! God is Faithful!
"Blessed is she who has believed that the Lord would fulfill his promises to her!" (Luke 1:45)
Did this post encourage you? Get my weekly blog posts emailed to you for free by clicking here or the image below. When you sign up, you'll also get access to the new "7 Journal Writing Prompts to Help You Wait on God Well" PDF as a free gift.

For more encouragement, read my books Crossing Your Jordan River: How to Possess and Prosper in Your Promised Land, Waiting on God Well: How to Prevent Breaking Down on Your Way to Your Breakthrough and Abounding Faith: 30 Bible Heroes Who Will Inspire You to Believe God for the Impossible! To learn how I can come alongside of you as your Life Coach or to invite me to speak at your event, visit my website www.aboundingfaith.com. Check out Abounding Faith's online store here. You can also find me on Facebook, Twitter, YouTube, Instagram, and Pinterest.
You might also enjoy reading: