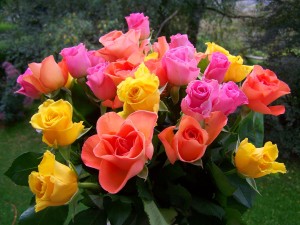 My Mom's birthday is coming up, so allow me to pay tribute to one of the strongest and most faithful women of God I know! I'm sure that a big reason why I am who I am today is because of my Mom's wonderful example, God's Grace, and my mama's PRAYERS!
Below is just a taste of all that I've learned from my Mom! May it bless you as well.
Don't be Afraid of a Little Adventure! – At the age of 27, my Mom left behind her entire family in her home country and boarded a plane to the United States. She dared to come with only a work visa and a suitcase. She didn't know one soul in this country. Not even the family she was coming to work for. Talk about guts! Perhaps that's part of the reason why I can board planes to just about any part of the world.
Follow Your Dreams – My Mom went to a beauty academy in her home country and had her own beauty shop by the time she was 23. After a few years here in the U.S., she opened up a beauty shop in our neighborhood with the help of my Dad. She would go on to successfully run it for 25 years! Yes, much of my childhood was spent watching customers walking around in rollers or with dye in their hair and breathing in the hair spray and nail polish fumes. My best friend and I used to pretend to be aliens while sitting underneath the beehive hair dryers. I have all those memories because my Mom had the courage to follow her dream of opening up her own salon.
Hold onto Jesus, No Matter What! All hell literally broke loose in my family when my parents divorced. My Mom ended up raising my older sister and me, caring for our two dogs and bird, and running her business on her own! It wasn't easy, but God stepped into all that chaos, brokenness, and trauma and rescued my Mom. It was out of that ugliness that Jesus saved her and gave her peace, joy, and love.
Take a Stand for Jesus. My sister and I freaked out when we found out that my Mom had left the Catholic faith and was a born-again Christian. We feared she had joined a cult! We thought she was a traitor. But my Mom stood her ground and continued following Jesus. That decision changed the course of our family!
Serve God with All Your Heart! – My Mom was one of the original members of the church she ended up attending for more than 20 years! Over the years, she served as a Sunday School teacher, usher, deacon, prayer team member, and food-pantry volunteer. You name it, she did it! She even had an online radio show with another prayer warrior and preached at various events in her church. My Mom is a servant with a capital "S".
Trust God to Fulfill His Word! – God means it when He says you and your household will be saved (Acts 16:31). A few years after my Mom got saved, my sister also became a born-again Christian. A few more years later, I finally got saved. God's Word is True! Don't give up on your loved ones that are still lost because God surely hasn't!
Always be a Student of the Word – My Mom has been to seminary and has taken many Bible study courses over the years. She loves reading her Bible. She can read it for hours! She doesn't hesitate to pull out her Bible dictionaries and commentaries when she wants to understand something further. She really is a life-long learner. May we all continue studying to show ourselves approved. (2 Timothy 2:15)
Family Comes First – My Mom is the kind of person who will drop everything to help her children and grandchildren. Back when we were younger, my Mom wouldn't hesitate to close her beauty shop early to drive me to skating practice and would wait in the car until I was done! She would also pick up my sister or me at night when we would get out late from our after-school job. Were we spoiled? Probably. Did we feel loved? Absolutely!
Let God be Your Vindicator – When people wrong my Mom, she doesn't get even. She does something way better. She goes to the throne and lets God handle her battles. And He does! (Romans 12:19)
Let God Reward You – My Mom delights in helping those in need without expecting anything in return from them. She enjoys accompanying her friends to their doctor appointments, translating for people who struggle with English, or praying for people who are going through hard times. My Mom just has this grace for helping people. God finds creative ways to bless her for her servant's heart.
Happy Birthday, Mom! I love you! Thank You!
"Charm is deceptive, and beauty is fleeting;
    but a woman who fears the Lord is to be praised.
 Honor her for all that her hands have done,
    and let her works bring her praise at the city gate."  (Proverbs 31:30-31)
THE HOLY BIBLE, NEW INTERNATIONAL VERSION®, NIV® Copyright © 1973, 1978, 1984, 2011 by Biblica, Inc.™ Used by permission. All rights reserved worldwide.
You might also enjoy reading: