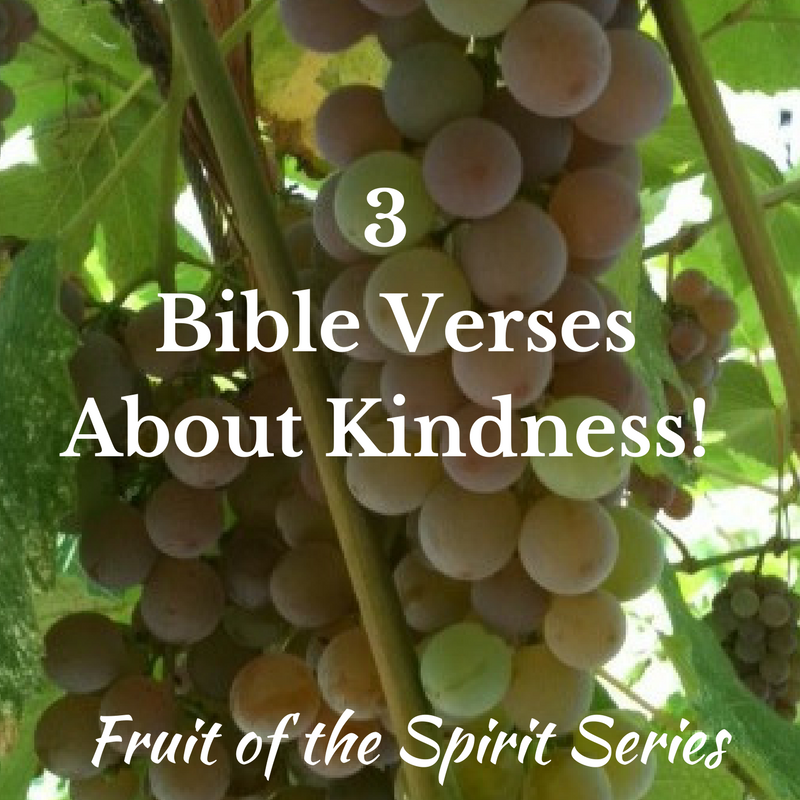 I'm continuing my series based on the Fruit of the Spirit found in Galatians 5:22-23, "But the fruit of the Spirit is love, joy, peace, forbearance, kindness, goodness, faithfulness, gentleness and self-control. Against such things there is no law."
This month I'm focusing on the fruit of kindness. The Bible is filled with examples of people being kind to one another. There is David being kind to his late friend Jonathan's son Mephibosheth by restoring his family's land to him and giving him a seat at his banquet table (2 Samuel 9:7). Boaz was kind to Ruth by providing her a safe place to glean grain and giving her extra provision for her and her mother-in-law Naomi, who were both widows at the time (Ruth 2:8-23).
Jesus described what it looks like to love your neighbor and to be kind to them by sharing the parable of the good Samaritan who stopped to help the Jewish man who was left half dead by robbers on the road to Jericho. Although Jews and Samaritans despised each other, the Samaritan in Jesus' parable bandaged the Jewish man's wounds, took him to an inn and cared for him and paid the innkeeper to look after the wounded man until the kind Samaritan returned from his trip  (Luke 10:25-35).
What a powerful lesson on being kind even to your enemies!
Kindness is contagious. Ever get inspired by seeing someone hold the door open for a stranger or seeing someone pay a stranger's bill at the register?
Kindness doesn't have to cost a thing. A smile, a warm greeting and saying thank you are all great ways to be kind.
Kindness can leave a lasting impression on a person. Think back to when someone visited you when you were ill, shared an encouraging word with you or took time to pray for you. How did that make you feel?
We can sometimes be in such a rush or be so absorbed in our own lives and problems that we forget to be kind to those we encounter throughout our day.
As Christians, we're called to be kind. Thankfully, we have the Holy Spirit living inside of us and He can give us the strength and grace to be kind and gentle to those we cross paths with in our busy lives.
Here are a few verses to encourage you as you go about being kind to others:
"Be kind and compassionate to one another, forgiving each other, just as in Christ God forgave you." (Ephesians 4:32)

"A new command I give you: Love one another. As I have loved you, so you must love one another.

 

By this everyone will know that you are my disciples, if you love one another." (John 13:34-35)

"Therefore, as God's chosen people, holy and dearly loved, clothe yourselves with compassion, kindness, humility, gentleness and patience. Bear with each other and forgive one another if any of you has a grievance against someone. Forgive as the Lord forgave you. And over all these virtues put on love, which binds them all together in perfect unity." (Colossians 3:12-14)
Today is a great day to start being more kind!
What intentional acts of kindness can you perform this week? Is there someone you could call, write or visit? Is there someone you can bless by treating them to a meal, watching their kids or running an errand for them?
I'd love to hear about some of your acts of kindness! Be sure to share them in the comments below. Blessings!
Did this post encourage you? Get my weekly blog posts emailed to you for free by clicking here or the image below. When you sign up, you'll also get access to the new "7 Journal Writing Prompts to Help You Wait on God Well" PDF as a free gift.

For more encouragement, read my books Waiting on God Well: How to Prevent Breaking Down on Your Way to Your Breakthrough and Abounding Faith: 30 Bible Heroes Who Will Inspire You to Believe God for the Impossible! To learn how I can come alongside of you as your Life Coach or to invite me to speak at your event, visit my website www.aboundingfaith.com. Check out Abounding Faith's online store here. You can also find me on Facebook, Twitter, YouTube, Instagram, and Pinterest.
THE HOLY BIBLE, NEW INTERNATIONAL VERSION®, NIV® Copyright © 1973, 1978, 1984, 2011 by Biblica, Inc.™ Used by permission. All rights reserved worldwide.
You might also enjoy reading: