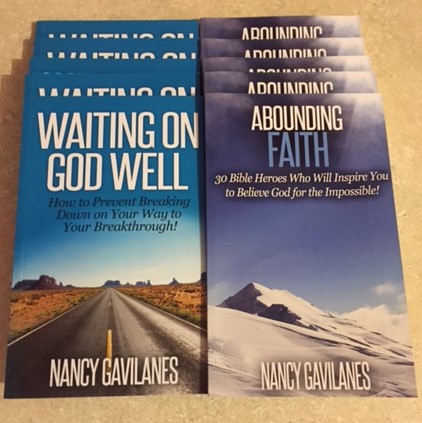 As I gear up to release my third book in April, I'd like to take a moment to share a few updates about my first two books. I'm honored and humbled to see how the Lord is opening doors and allowing my books to reach even more readers!
I'm delighted that Bible study groups have started studying Waiting on God Well and that it is on the approved reading list for The Bowery Mission Women's Center.
I'm excited that Waiting on God Well and Abounding Faith will also be sold in a new bookstore opening in California in May! I will be sure to share more details soon!
It's a blessing to hear from readers and to know that they are being touched by my books. It helps to spur me on to keep writing! It's lovely words like these that help to encourage me to keep going:
"Waiting on God Well was quite insightful and encouraging. It gave some very practical tools that can help us continue waiting on the Lord and not give up,"       Pastor Lillian Gutierrez, Love Gospel Assembly
"Waiting on God Well is a good and simple read with excellent scriptural references/meditation and (my favorite), the action steps. They're so HELPFUL! I feel that women, men or anyone who's willing to seek God's guidance can benefit from you book," Manni Lee, Associate Executive Director, Women of Wonder (WOW)
For more reader reviews, click here.
I am grateful for all my readers and for every opportunity I get to speak and encourage folks as they wait on God to fulfill His promises to them and as they believe God for the impossible!
If you have been blessed by my books, I would love to hear from you. Kind reviews of Waiting on God Well and Abounding Faith are always welcome. Please feel free to leave a short review on Amazon or to email Info@AboundingFaith.com. I'd also appreciate your help spreading the word about both books to your friends, family, small groups, and book clubs!
I'm looking forward to sharing more news about my third book and the other doors the Lord is opening. Please stay tuned.
Blessings to you as you continue on your faith journey! I hope you are seeing God's fingerprints in your life!
Did this encourage you? Get my weekly blog posts emailed to you for free by clicking here or the image below. When you sign up, you'll also get access to the new "7 Journal Writing Prompts to Help You Wait on God Well" PDF as a free gift.


For more encouragement, read my books Waiting on God Well: How to Prevent Breaking Down on Your Way to Your Breakthrough and Abounding Faith: 30 Bible Heroes Who Will Inspire You to Believe God for the Impossible! To learn how I can come alongside of you as your Life Coach or to invite me to speak at your event, visit my website www.aboundingfaith.com. Check out Abounding Faith's online store here. You can also find me on Facebook, Twitter, YouTube, Instagram, and Pinterest.
You might also enjoy reading: