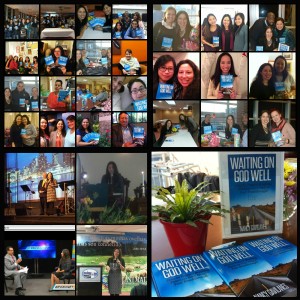 What a year it's been since the release of the printed version of my first book Waiting on God Well: How to Prevent Breaking Down on Your Way to Your Breakthrough!
I'm so grateful to everyone who has supported my book! I'm touched to hear how Waiting on God Well has blessed you! Thank you to everyone who has bought the book for themselves, written reviews about it, and bought copies of the book to share with friends.
Writing can be a solitary experience, so it's great when I can celebrate with others. I love that this book has touched people of different backgrounds, ages, and both women and men.
We're all waiting on God for something, right? I've heard stories of folks waiting for a new job, for their spouse to come to the Lord, to meet their significant other, and others waiting for healing in their bodies, etc… Some have said they couldn't put the book down once they started reading it. Others have thanked me for including the Power Verses and the Action Steps at the end of each chapter.
I love what the Lord is doing in and through people as they read Waiting on God Well! Here's just a sample:
"Waiting on God Well was quite insightful and encouraging. It gave some very practical tools that can help us continue waiting on the Lord and not give up!" – Pastor Lillian Gutierrez, Love Gospel Assembly
"Waiting on God Well is a good and simple read with excellent scriptural references/meditation and (my favorite), the action steps. They're so HELPFUL! I feel that women, men or anyone who's willing to seek God's guidance can benefit from you book." – Manni Lee, Associate Executive Director, Women of Wonder (WOW)
"Waiting on God Well is an encouraging book that reminds us that we don't have to put our life on hold while we wait upon God. The book reminds us that God has a purpose for us even in our season of waiting and is a sweet reminder that He is taking care of us and growing us even in difficult times. This book has been a huge blessing to me!" – Christina Phan, Connect Group Leader, Every Nation Church New York City
You can read and view more testimonies here. You can read past blog posts about the book here and watch a video greeting I did for readers here.
It wasn't easy writing Waiting on God Well, but it was a necessary step in my journey. And if you're following my faith journey, you're getting to see some of the fruit and blessings that God is allowing in my life after this long season of waiting. All glory to God!
God is still writing my story. I look forward to sharing more with you as it unfolds!
I hope my story will encourage you that waiting on God is not in vain! God is working behind the scenes. Your breakthrough will come at its appointed time. God will not be one day too early or too late. He'll be right on time!
If you're free, I hope you'll join me on Periscope this Wednesday at 12:30pm (EST) for Abounding Faith Today's Midday Praise Break. Let's celebrate this milestone! I'd love to hear how God is working in your life as well! If you can't make it live, no worries. I'll post the replay on Abounding Faith's YouTube Channel.
Blessings to you and please keep the positive reviews coming on Amazon and please continue to tell others about Waiting on God Well. Help others as they go through their waiting seasons! Help them to see that waiting on God is worth it!
"Blessed is she who has believed that the Lord would fulfill his promises to her!" (Luke 1:45)
Did this encourage you? Share your thoughts in the comments below! And don't forget to sign up below to have my weekly encouraging blog posts emailed straight to you for free. When you subscribe below, you'll also receive the free "12 Journal Writing Prompts" PDF I created to help inspire you as you write/journal.

For more encouragement, read my book Waiting on God Well: How to Prevent Breaking Down on Your Way to Your Breakthrough! To learn how I can come alongside of you as your Life Coach or to invite me to speak at your event, visit my website www.aboundingfaith.com. Check out Abounding Faith's online store here. You can also find me on Facebook, Twitter, YouTube, Instagram, and Pinterest.
THE HOLY BIBLE, NEW INTERNATIONAL VERSION®, NIV® Copyright © 1973, 1978, 1984, 2011 by Biblica, Inc.™ Used by permission. All rights reserved worldwide.
You might also enjoy reading: