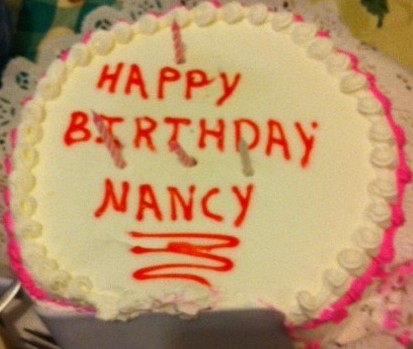 Those who know me well have heard me say that I don't just celebrate my birthday, I celebrate my birthmonth. Yes, the Roctober celebrations are in full swing. I'm enjoying dinner and dessert with my family and friends. I'm finding ways to pamper myself as well. Why limit the party to one day when you can celebrate all month long, right?
But along with rejoicing, I tend to get very pensive and do a lot of reflecting around my birthday. I take inventory of the highs and lows of the past year and then future focused me likes to plan and set goals for the upcoming year.
Trying to figure out the future though can fill anyone with worry, doubt or fear. That's why I'm learning to not fret so much and to rest in knowing that God has everything under control.
The verse that comes to mind is found in Psalm 139. That's one of my favorite Psalms and the verse I'm referring to is, "Your eyes saw my unformed body; all the days ordained for me were written in your book before one of them came to be." (Psalm 139:16)
Let's stop and think about that for a moment. Before we were even born, God knew us. And before we ever took one breath on this earth, God had our lives all planned out. Nothing surprises God!
Sometimes we get so stressed trying to figure out God's will for our lives or what our next step should be. We worry about missing God's plan for our lives or get upset that we haven't achieved certain goals yet. But as a dear friend recently reminded me, God is not limited by time.
I can be content and enjoy today because I know that I'm right where God wants me to be for now. I can praise God and celebrate what's to come because I know that God has ordained beautiful things for my future.
The same is true for you! Continue following Jesus and let Him unfold His good plan for your life day by day.
Blessings to you! May you find plenty of reasons to laugh, smile, and sing today and every day.
Did this encourage you? Please hit "like" and be sure to sign up below to have my weekly encouraging blog posts e-mailed straight to you for free. When you subscribe below, you'll also receive the free "12 Journal Writing Prompts" PDF I created to help inspire you as you write/journal.


For more encouragement and to learn how I can come alongside of you as your Life Coach or to invite me to speak at your event, visit my website www.aboundingfaith.com. You can also find me on YouTube and Pinterest.
THE HOLY BIBLE, NEW INTERNATIONAL VERSION®, NIV® Copyright © 1973, 1978, 1984, 2011 by Biblica, Inc.™ Used by permission. All rights reserved worldwide.
You might also enjoy reading: