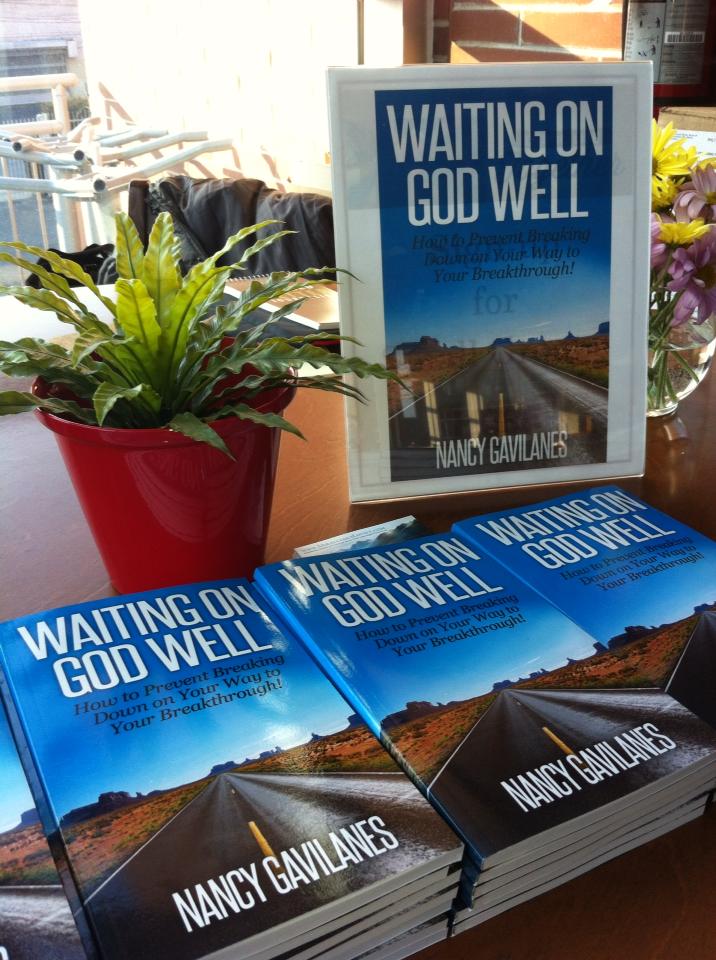 It's been awhile since my book Waiting on God Well launched. As I gear up for my latest Book Talk and Signing this Saturday, I'd like to share a bit about how things with the book are going! A Big Thank You to all my readers! 
I'm so encouraged to hear how people are being touched by Waiting on God Well! As a writer, the biggest feat for me was simply getting all the words down. Sharing it with others and hearing their feedback has been such a blessing!
Readers are saying that they can't put it down and that it's speaking right into their situations. It's resonating with women and men, young and older, and folks from all different backgrounds. Some are buying copies for their friends. They are being inspired as they wait on God for their promises. Glory!
To know that one small group is already studying my book is amazing. To be able to sit with them and hear what they had to share was an honor!
Getting to speak with the lovely ladies at The Bowery Mission Women's Center was also a delight. I'm so touched to hear that Waiting on God Well has been added to their reading list and that two women are going to be writing book reports about it! Oh my!
Add to that, I got to lead a Connecting session at the recent Hope Gathering women's conference. It was so special to gather with other women to talk, listen to each other, pray, and remind each other that Jesus is our Hope!
And I was interviewed for the podcast "Living At My Best With Donna Woolam" and the TV show "Open".
Whoa, this is all part of what I've been waiting to do!
To just be free to talk to groups, large and small. To encourage folks one at a time and at gatherings. To me, this really does feel like living in the Promised Land!
Only God knows what else He has in store for this book and who else will be touched! If you would like me to come speak at your event or small group, please feel free to contact me. You can learn more here. God is moving! I'm so excited to be in the center of God's will for my life, and I hope to inspire you as you continue on your journey!
If you've read Waiting on God Well and have been blessed by it, please leave your thoughts below or post a kind review on Amazon.
If you haven't read it yet, you can grab your copy on Amazon.
Want to know what I'm up to these days? Sign up to get alerts from Abounding Faith by clicking here or by visiting my News page. Here's more info on how we can Stay Connected.
I'll leave you with a reader review from Amazon. Many blessings to you!
"Waiting on God Well is a thought provoking quick read! It can be used as a daily devotional or a bible study guide. It is so versatile that small groups could use it as a weekly guide. The author has a lot of insight and gives good guidance on waiting on the Lord. I highly recommend it."
"Blessed is she who has believed that the Lord would fulfill his promises to her!" (Luke 1:45)
Did this encourage you? Please hit "like" and don't forget to sign up below to have my weekly encouraging blog posts e-mailed straight to you for free. When you subscribe below, you'll also receive the free "12 Journal Writing Prompts" PDF I created to help inspire you as you write/journal.

For more encouragement, read my new book Waiting on God Well: How to Prevent Breaking Down on Your Way to Your Breakthrough! To learn how I can come alongside of you as your Life Coach or to invite me to speak at your event, visit my website www.aboundingfaith.com. You can also find me on YouTube and Pinterest.
You might also enjoy reading: