I have felt drawn to the United Nations since at least 2008. This past Wednesday, the Lord allowed me to speak at one of the United Nations buildings to a lovely group of Christians who work there! All Glory to God!
I pray you're blessed by the short video above!
Speaking to the nations about my Lord and Savior Jesus Christ was a true honor and privilege! A few precious people asked me for prayer afterwards and shared that God had spoken to them through my message. I'm so honored and humbled when anyone says that. God is so Good!
Waiting on God is not in vain. God is moving and I'm excited! Here's a snapshot of that milestone day for me.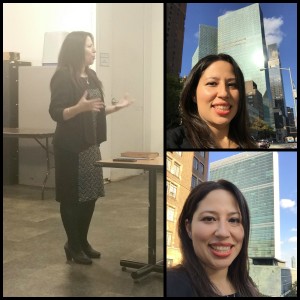 Thanks for being on this faith journey with me! I'm looking forward to what's ahead in this new season!
Please note that next week I plan to share some thoughts about my Senior Pastor of more than a decade who passed away that same day. I will miss Pastor Johansson dearly, but I am rejoicing that he is now in Heaven with Jesus!
Did this encourage you? Don't forget to sign up below to have my weekly encouraging blog posts emailed straight to you for free. When you subscribe below, you'll also receive the free "12 Journal Writing Prompts" PDF I created to help inspire you as you write/journal.

For more encouragement, read my books Waiting on God Well: How to Prevent Breaking Down on Your Way to Your Breakthrough and Abounding Faith: 30 Bible Heroes Who Will Inspire You to Believe God for the Impossible! To learn how I can come alongside of you as your Life Coach or to invite me to speak at your event, visit my website www.aboundingfaith.com. Check out Abounding Faith's online store here. You can also find me on Facebook, Twitter, YouTube, Instagram, and Pinterest.
You might also enjoy reading: